I'm an avid reader training for my second ever triathlon this summer.
That's how I started my blog at the beginning of 2014. Three years later and I am now an avid reader who has finished one ultra marathon (North Downs Way 50), four marathons (Barcelona, Brighton, Dublin and Paris, with a PB of 3hr 51),  competed in four Olympic distance triathlons, three Sprint distance triathlons, and one half Ironman…… I am still not always sure what I am doing but am learning a lot and sharing my experiences through this blog!
My favourite place to be is curled up on the sofa with a good book, my cat, and a glass of wine. Failing that, I quite like to be on the top of a hill on my bike looking downwards, running slowly along the Thames path with the sun glittering on the water, or experiencing the complete stillness and quiet you get from floating in a lake at an ungodly hour on a Saturday morning. On the other hand, dragging myself into the pool whenever I manage to do it is (still) a huuuuge effort.
The hope is that by writing about my training I will spur myself on to actually go and do some every now and then.
I've given myself some big goals for 2017, which you can read more about in this post.
17 for 2017
Finish happy at my first ultra marathon (50 miles!) Complete! I finished very happy and actually loved it. Bring on the next one 😀
Climb the 3 peaks.
Finish happy at Paris marathon Complete! Although I didn't finish particularly happy, I did get a 21 minute PB of 3 hours 51 minutes which made me very happy.
5km PB
sub-55 minute 10km Complete! 51 minutes at the RunThrough Brixton 10k on 08.01.17
Sub-2 hour half marathon Complete! 1 hour 51 minutes at the Heartbreaker Half in the New Forest
Go on a cycle touring trip
Finish walking / running the length of the North Downs Way
Get a PB at an Olympic distance triathlon
Get that sub 7 hour half Ironman (I've entered Hever Castle)
Work on my headstand
Keep up the strength training
Work hard and don't get too stressed about it
Save for a new kitchen
Read an average of 4 books a month
Read (and blog about) the entire Booker longlist
Do one thing that's entirely new.
Books – I love reading all types of books, especially dystopias or historical fiction. I couldn't possibly pick a best book but I sobbed and sobbed through through A Little Life by Hanya Yanighara (always a good sign) and, like every other runner, was inspired to run further by Born to Run.
And travelling – as much as I love home, I also love getting away from it all and have a bit of a reputation amongst my friends for always being on holiday. I used to keep very detailed travel diaries, hastily scribbled on trains and planes in a battered notebook – now those diaries are written on my blog and published together with lots of photos of the various places I've visited! I spent six months living in Madrid in 2015 and try to return to Spain at every possible opportunity.There's also lots of trips to the USA as my lovely boyfriend (James, he's a philosopher) works at a university at in South Bend, near Chicago.
Aside from all of that, I live in Brixton, south London, and spend my time working hard, training, eating my way around London and looking after our little cat, Oscar.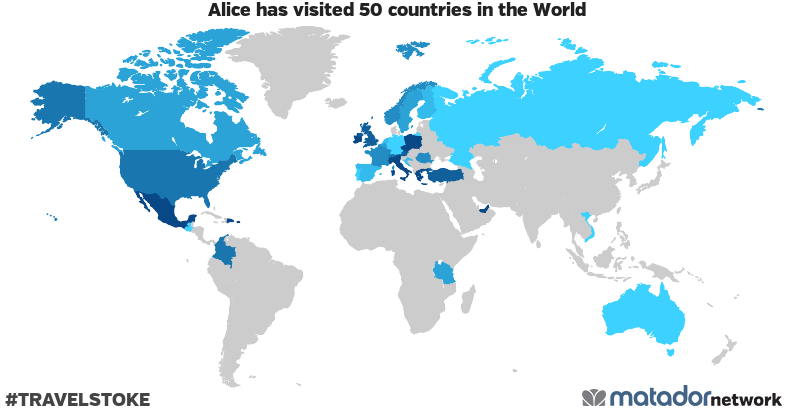 Alice has been to: United Arab Emirates, Antigua and Barbuda, Austria, Australia, Barbados, Belgium, Bermuda, Canada, Switzerland, Colombia, Cape Verde, Czech Republic, Germany, Dominica, Dominican Republic, Spain, Finland, France, United Kingdom, Grenada, Guernsey, Guadeloupe, Greece, Guatemala, Croatia, Ireland, Italy, Jersey, Saint Kitts and Nevis, Saint Lucia, Monaco, Martinique, Mexico, Netherlands, Norway, Poland, Puerto Rico, Portugal, Romania, Russia, Sweden, Turks and Caicos Islands, Turkey, Tanzania, United States, Vatican, Saint Vincent and the Grenadines, British Virgin Islands, U.S. Virgin Islands, Vietnam.
Get your own travel map from Matador Network.